Claude
Claude was first introduced as a minor character when George was seeking information about the Costume Killer.
He discovers that Khan bought a clown costume from Claude's costume store with the help of Nico. Claude explains to George that he did sold the clown costume to Khan along with other different costume, Claude stated that Khan purchase the costume under a different name. Claude is an important character in the game because he reveals that Khan bought his costumes in his store.
Khan rented two costumes: Bozo the Clown and Seamus the Pixie.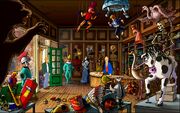 Ad blocker interference detected!
Wikia is a free-to-use site that makes money from advertising. We have a modified experience for viewers using ad blockers

Wikia is not accessible if you've made further modifications. Remove the custom ad blocker rule(s) and the page will load as expected.