The unnamed Newcastle United fan is met on the train by George Stobbart on his trip to St. Ninian's along with his friend Basher. He helps George to climb up to the train's roof so he can avoid being seen by Guido or Eklund.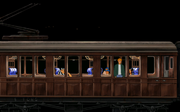 Ad blocker interference detected!
Wikia is a free-to-use site that makes money from advertising. We have a modified experience for viewers using ad blockers

Wikia is not accessible if you've made further modifications. Remove the custom ad blocker rule(s) and the page will load as expected.