"This could be big, so if he makes a pass don't forget: just smile, say yes, and keep taking notes".
-Ronnie
Ronnie is a newspaper editor of La Liberté and Nicole Collard's boss in Paris, France.
Personality
Edit
Ronnie has a strong temperament surely due to his profession. Work must be delivered instantly, if not the story is lost. Although he seems stubborn, he is concerned when a specific topic involves a physical danger of one of their employees.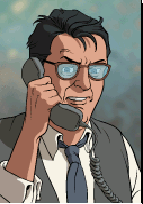 Ad blocker interference detected!
Wikia is a free-to-use site that makes money from advertising. We have a modified experience for viewers using ad blockers

Wikia is not accessible if you've made further modifications. Remove the custom ad blocker rule(s) and the page will load as expected.