Mr. Shiny what wrong pal?
-Sam
Sam, is a janitor at the Hagenmeyer Clinic in Paris. He's always with his best friend, Mr. Shiny.
Personality
Edit
Sam is a little simple-minded. He often talks to Mr Shiny. He knows that the rest of the staff thinks he's twisted, but doesn't mind.
George met him in the Hagenmeyer Clinic corridors. George distracted him by disabling Mr Shiny, in order to grab a doctor's uniform.
Sam has had Mr. Shiny for three years.
Each week, Sam gives Mr. Shiny a pull-through.
He's responsible for the contents of the cupboard close to him (red door).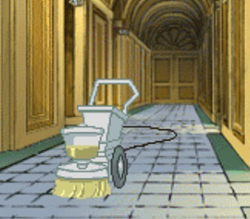 Ad blocker interference detected!
Wikia is a free-to-use site that makes money from advertising. We have a modified experience for viewers using ad blockers

Wikia is not accessible if you've made further modifications. Remove the custom ad blocker rule(s) and the page will load as expected.