Topkapı Palace is divided into 6 places: Entrance, Courtyard, Fountain Courtyard, Harem, Lover's vestibule and Museum.
When George and Nico decided to enter to find the old Citadel buried under it, both Mevlut and the receptionist of the Pasha Palace Hotel warn them that there is a presidential conference that week, only invited diplomats and press would be allowed in. Therefore the place is crawling with guards.
George successfully pass the security guards at the entrance by swapping his ID picture with Eamon O'Mara's.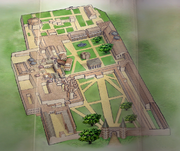 Using the ap available at the Hotel, George found his way inside and hacked the Topkapı Security Management of the Museum. Then both of them manage to access the water system beneath the fountain of the inner courtyard in Topkapı Palace, leading to the catacombs.
After having solved puzzles related to the manuscript, they took the first Cherub and got back to the Hotel.
But after a (certainly) wonderful night with Anna Maria, George is arrested and put in a cell in the Topkapı Palace.
Fortunately, he's been helped by Mevlut, disguised as Father Nicolas and Nico as Sister Immaculata.
The Museum section is where the Topkapı dagger is exhibited.
In the Harem, the Prince of Topkapı kept 200 concubines and of course his usual 10 wives.
According to Mevlut, only the Crusaders managed to break into Topkapı and they had somebody on the inside...
When George steal the guard's mobile phone to sneak into Topkapı Palace, the number is 555 654897. The first three digit numbers (555) are widely used for fictitious telephone numbers in North American television shows, films, video games and other media. But it also matches identification numbers for one of the major mobile telephone provider in Turkey, Avea.
The mobile phone numbers in Turkey are only 7 digit numbers though, not 9.
External link
Edit
Ad blocker interference detected!
Wikia is a free-to-use site that makes money from advertising. We have a modified experience for viewers using ad blockers

Wikia is not accessible if you've made further modifications. Remove the custom ad blocker rule(s) and the page will load as expected.